Instead of eating a totally FATTY piece of pizza, try making some of these to take care of that craving. I found this recipe on Fitsugar, and thought it looked amazing. I'm gonna try it!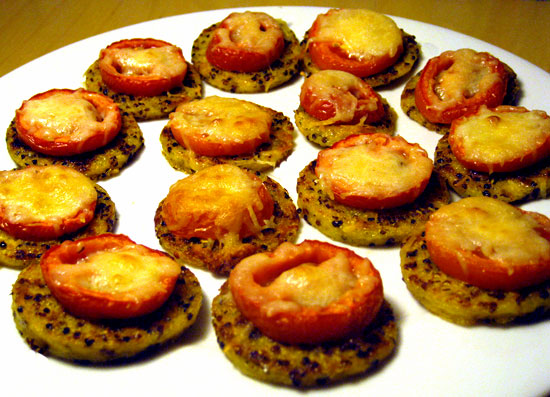 To see this simple recipe that can be served as an appetizer or main dish keep reading.
Recipe: Pizza Quinoa Polenta
Ingredients
1 tube of Quinoa Polenta
3 tablespoons olive oil
3 Roma tomatoes
1/2 cup shredded mozzarella
Directions
Pour the oil in a pan and heat on low.
Cut the polenta into 1/4 inch thick slices.
Place the polenta in the pan and cook each side so they're slightly golden brown.

Turn the oven on to 350° F.
Slice the tomatoes. Place the polenta on foil on a cookie sheet. Top each piece with a slice of tomato. Sprinkle with cheese and bake for 10 to 15 minutes or until the cheese is melted.